Here we share some observations about and snapshots of the Passive House we had built in Oakland County, Michigan. All photographs were taken by us unless otherwise noted.
Our house is provided with fresh air by means of an energy recovery ventilator (ERV), in our case a Zehnder ComfoAir 350, an outstanding system on every count. These units work by running stale, room temperature outbound air through a cross-current heat exchanger to warm and humidify (in winter) or cool and dehumidify (in summer) inbound fresh air. Since the energy recovery isn't completely perfect, we condition our interior air when needed with a couple of Mitsubishi minisplits. The problem with this arrangement is that the air warmed or cooled by the minisplits tends not to diffuse uniformly throughout the house. Instead, it drifts toward the bathrooms and kitchen where the ERV's intake registers are located and away from the rooms where the fresh air from the ERV is supplied.
Zehnder makes a product that can help with this issue. It is the ComfoFond, a geothermal preconditioner system that works with the ComfoAir. Fresh air runs past thermal transfer tubing in the preconditioner before entering the ERV. This will effectively warm the inbound air in winter and cool and dehumidify the inbound air in summer. According to Zehnder's documentation, for our climate where the ground temperature is 55°F, air entering the preconditioner at 10°F will leave it at at 34°F. Air entering at 95°F will leave it at 77°F. This should take a burden off of the ERV and reduce the times when we need to use the minisplits.
The ground loop we installed is 400 feet of 1 inch diameter hePEX. At its deepest the tubing is below the water table where thermal conductivity is increased.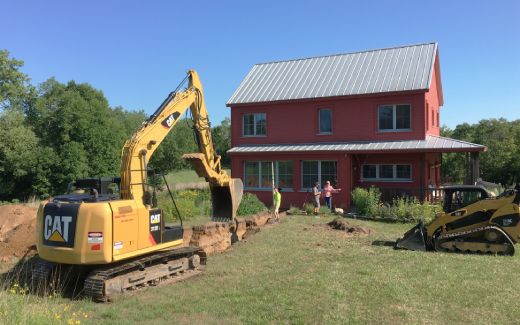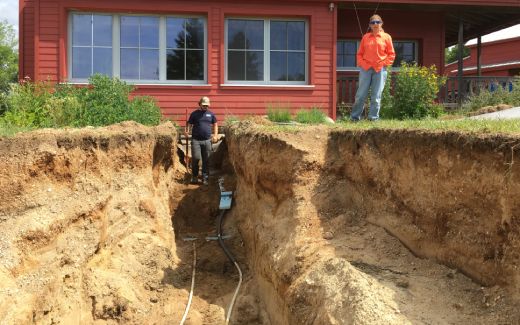 Insulating the inflow tube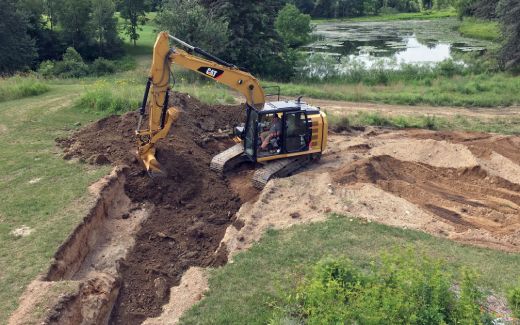 One of the principal tributaries of the upper Shiawassee River runs through the property around our home. As readers of Ben Goldfarb's outstanding book Eager, we fully appreciate why beavers are attracted to this waterway and why these dynamic and tireless aquatic engineers are our best allies in restoring the local natural habitat. The upsides of beaver activity include a significant improvement in downstream water quality, the reduction of erosion and current fluctuations that storms and snow melt would otherwise cause, and increased habitat for native plants and animals.
The downside to beaver presence is that the level of the water their dams impound may put existing structures, roadways, and snake hibernacula at risk. In order to limit how high the water can reach we opted to install a pond leveler, sometimes called a "beaver deceiver." The idea with these devices is to allow the full current to flow through the dam at the appropriate height. The intake and output should be quiet and smooth enough that the beavers are not compelled to further obstruct the stream. The capable team at Bostwick Excavating—Mike Sr, Mike Jr, Mitch, and Austin—recently constructed and installed such a device modeled after the Clemson pond leveler. With this plan, the water intake is distributed over many holes in a tube that is centered in a 30 inch diameter cage. The cited documentation states that this device handles several hundred gallons of water per minute and should require very little maintenance after installation.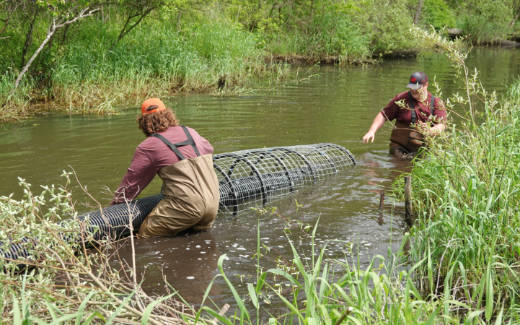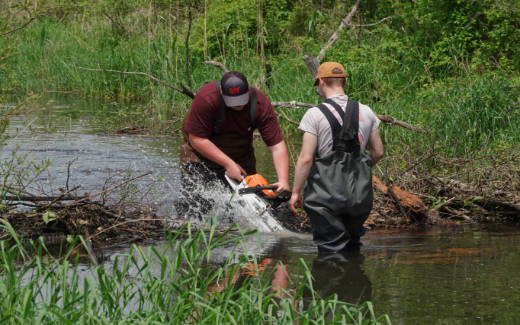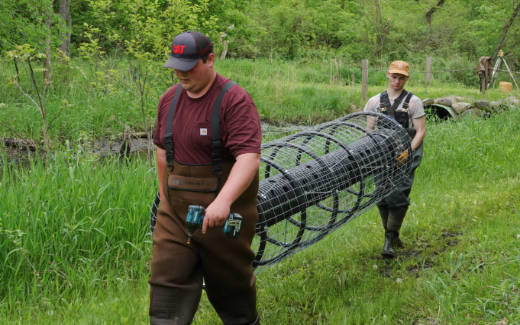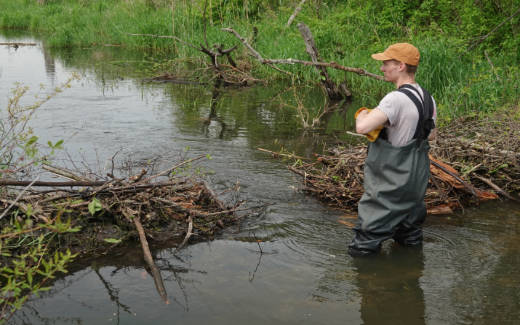 Opening for leveler outflow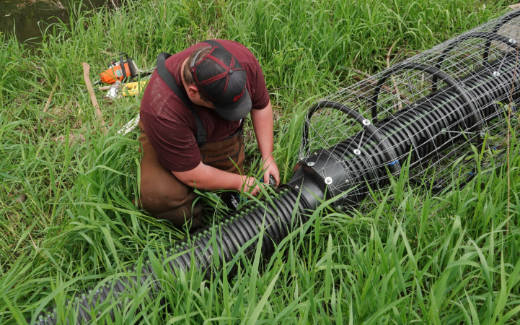 Assembling the leveler at the dam site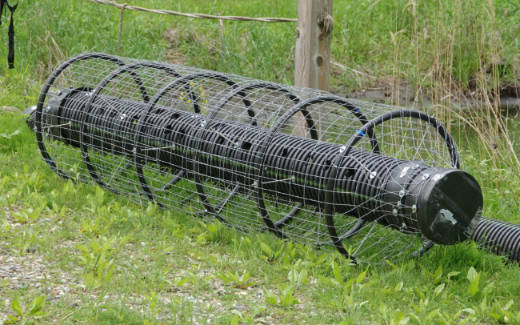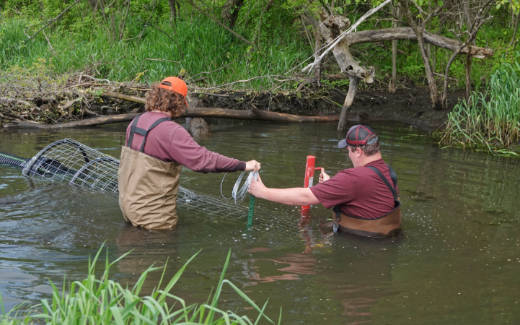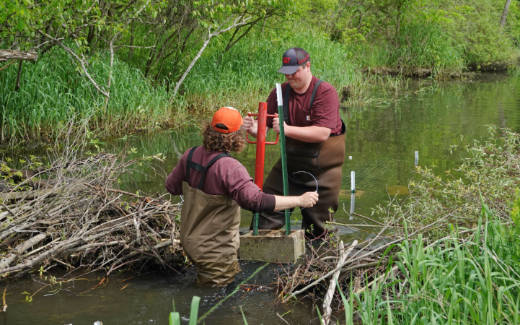 Securing the outflow tube
There can't be too many people on the planet who can speak so clearly and authoritatively about the Passive House concept as Michael Klement. Listen to Cynthia Canty and Michael discuss this topic in an 18 minute conversation brought to you by Michigan Radio.
In coordination with our friend Michael Klement we recently hosted at our house a gathering of people interested in energy performant buildings. Participants included people involved in the design and construction of passive houses (including members of the outstanding Phoenix Haus team) as well as prospective passive house homeowners.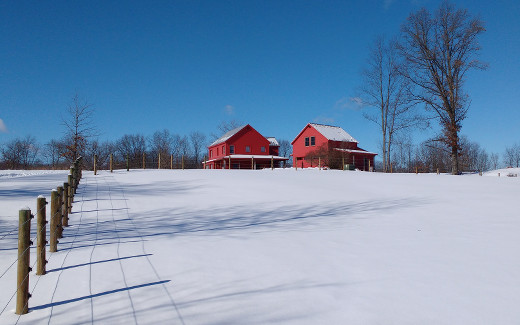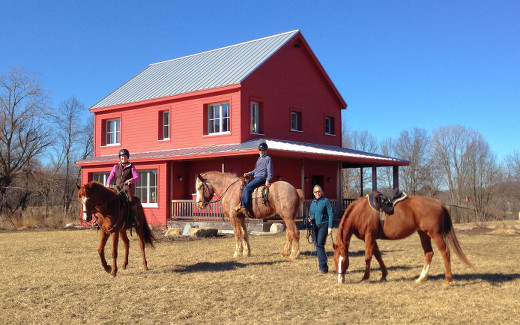 Monte, Jake, Ellie and people
Photo by Jim Dowd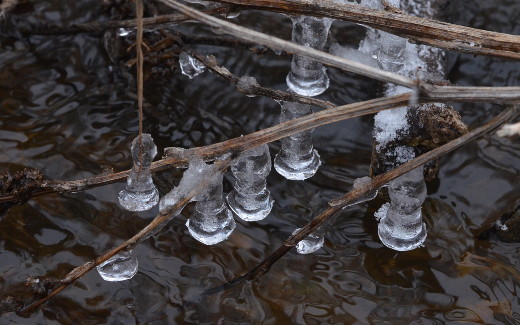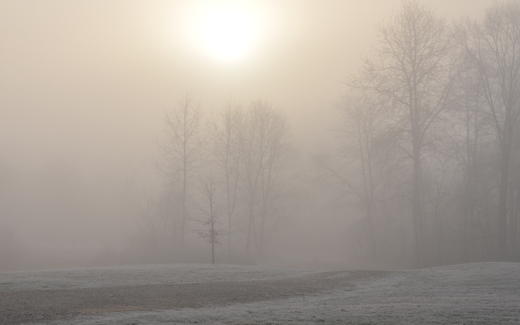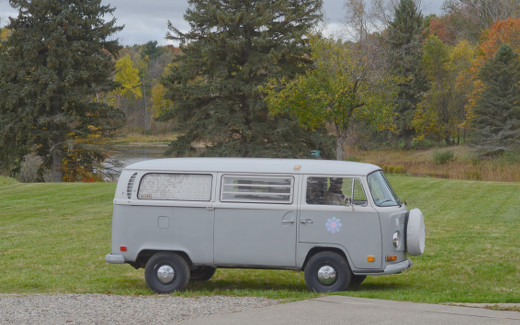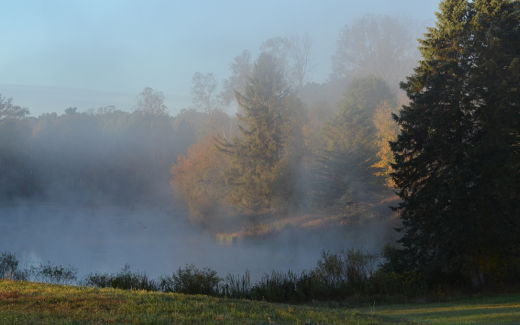 Certain discussion topics come up routinely at events like this. Here is a summary of some of them.
Price
Clearly, passive house construction comes at a premium. Hammer and Hand estimate the extra cost over standard code-compliant construction to range between 5% and 15% for a single family home. Our particular home was at or above the high end of that range. This is notably due to the use of its combination TJI truss over 2x6 wall assembly rather than the more commonly used structural insulated panels, a decision motivated by reasons of sustainability rather than cost.
At this time, most passive houses in this country are designed by certified professionals. Designing a house to the passive house standard will, unsurprisingly, come with its own premium. We would welcome a trend in which inexpensive home plans include a passive house option.
Appliances
We use a condensing dryer when the weather keeps us from hanging laundry outdoors. This kind of dryer, common in Europe but still a rarity here, is electrical and is not vented to the outdoors. Water from the fabric being dried is plumbed directly to a floor drain or to a removable tray. During the times that we use this dryer we welcome its warmth. This is thermal energy that stays in the house where we want it rather than discarded outside through a vent.
Our water heater is a standard electrical model. Last year it replaced a heat pump water heater that was continually problematic for us. We have concluded that a heat pump water heater does not make sense in our Michigan cold weather climate. The ambient thermal energy it transfers to its evaporator leaves the surrounding area uncomfortably cold. Heat pump water heaters undoubtedly make good sense in warmer climes.
Bathroom and kitchen range ventilation is surprisingly effective in our house. Rather than use vents to the outside that would compromise the airtight aspect of our home, we have a simple option to step up the energy recovery ventilator's flow rate. Normally, day in and day out, the ventilator exchanges fresh air with stale at the rate of 96 cubic feet per minute. At this rate, an entire house volume of air is recycled in three hours. Fresh air (that has been warmed by outgoing stale air in the winter and cooled and dried in the summer) is continually supplied in bedrooms and living areas. Stale air is collected in the kitchen and bathrooms. Even without the step-up feature of our ERV, the continual air flow into the kitchen and bathrooms removes odors. This is unlike standard construction in which some under-powered utility fan must work against the static air pressure throughout the building. Even when the ERV flow rate has been doubled we can't feel or hear any air movement.
Heating, cooling, ventilation
In our house, ventilation is separate from heating and cooling. The building is so airtight and well-insulated that temperature variation throughout the interior is minimal. Even when the outside temperature is below 0 °F we are as comfortable sitting on our window seat as we are away from the wall.
Two wall-mounted minisplits (air-to-air heat pumps with reversible refrigerant flow based on the season) provide all the warmth in winter and dehumidification in summer that we need. One of the units is on the ground floor; we use this almost exclusively for winter heating. The other is upstairs and is used almost exclusively for dehumidification during hot, muggy summer weather. Even though the units came with thermostats we control them manually. When it feels a little cool indoors in winter, we turn the downstairs unit on in heating mode. If it's especially cold and cloudy outside, we may have to crank up the fan speed a notch. The power draw is roughly the same as a hair dryer, although it is very quiet. When it feels a little warm indoors, we turn the unit off. In general, the cycles of operation span days or weeks, an entirely different effect than using a high capacity furnace to heat or air conditioner to cool. In spring and autumn the minisplits are rarely used. During those seasons we control temperature by opening and closing windows.
One observation is worth noting with respect to the energy recovery ventilator. On our house, the fresh air intake and the stale air output vents are located on a west wall about eight feet apart. A couple of times after we have prepared something aromatic in the kitchen and the outside conditions are very calm, we have detected the faintest trace of the aroma elsewhere in the house. There is no branching in the eight supply and eight exhaust conduits that connect the ERV and the various room registers, so we figure this results from kitchen air drifting outside from the output vent to the intake vent. In retrospect, we wish we had separated the vents more, possibly by putting them on different walls.
Renovation versus new construction
Among the discussions we have with visitors, a fairly common topic is that of applying passive house principles to existing structures or to new standard construction. Anyone considering a project like this would do well to study the Passive House Retrofit site that details the successful efforts of Lucy and Ed Marion to transform their home in Ontario. One takeaway is that the Passive House standard sets a really high bar and demands attention to every detail of the building envelope including the foundation. Another is that a passive house isn't merely a code-built house with extra insulation and without air leaks, but one that provides continual, energy efficient ventilation and optimal sunlight exposure and seasonal shading.